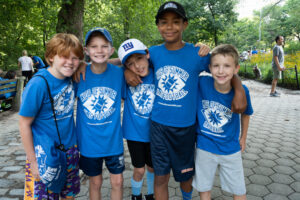 Testimonials from happy and satisfied parents
"I do not have words to express the extent of our gratitude to Kids of Summer for your programming over the Summer of 2020. You enabled my son to thrive with time outside in fresh air; surrounded him with talented coaches to give him confidence in newly-acquired skills; and provided safe, socially-distant opportunities to build friendships during a tough time during a pandemic. His six weeks with Kids of Summer transformed him back into a kid who smiled and looked forward to each day.  Thank you for creating safe opportunities for children to grow and thrive".
- Jenny E. - Mom of 8 year old camper
"My son has attended Kids of Summer baseball camp for the past three years and it is the only thing he wants to do all summer, every summer. He has participated in a number of different baseball programs in Manhattan and we both agree that Kids of Summer is the best. The coaches are great and he has learned a lot. Fun, affordable, well organized, and in wonderful Riverside Park — Kids of Summer is everything a summer camp should be, even in the heart of NYC".
- Rebecca M. - Mom of 12 year old camper
"My son has been going to Kids of Summer for many years. Every single coach has been incredible. They're all warm and interested in the kids, and they know how to teach them while making it lots of fun. My son's skills have improved greatly, and he begs to go back every year. He also wants to become a counselor when he's old enough, he just can't get enough of this program. My 8 year old daughter will start going this summer as well, she's thrilled. I highly recommend this as a summer camp option!"
Maureen H. - Mom of 11 year old and 8 year old campers
"The sports instruction has been serious enough to keep our very competitive and focused son engaged and almost more important to us, the culture of respect, good sportsmanship, and fun as the highest priority has thoroughly impressed us.  We unreservedly recommend Kids of Summer and feel very fortunate to have found it.  A true Upper West Side treasure".
Michele G. - Mom of 12 year old camper
"Kids of Summer has helped shaped my son's sports and social life! Mike Handell is the driving force behind KOS and is amazing to work with. My son has met his best friends during these camps, and developed real relationships with many of the coaches. The athletic offerings are excellent, but I'm mainly impressed by Mike's staff and how well they understand kids and their needs – across the board."
Ali L. - Mom of 11 year old camper
"We have been involved with this organization for over 5 years now- from the sports camps to the travel teams for both baseball and basketball. The coaches are top notch and really care about the kids. We feel like this organization is an extension of our family. They are very professional and teach the kids all the fundamental skills. Highly recommend."
Karen D. - Mom of 10 year old campers
"I have 2 (girl and boy) kids who have been working with the Kids of Summer coaches since they could hold a ball. Fantastic teaching with a constant focus on fun."
David A. - Dad of 10 and 12 year old campers
"I am writing to let you know I was truly impressed with how Kids of Summer was run, and the professionalism of all the staff. This was our first year at the camp, and my son had an amazing time. He told us he definitely wants to go back again next summer!"
Demitra K. - Mom of 9 year old camper