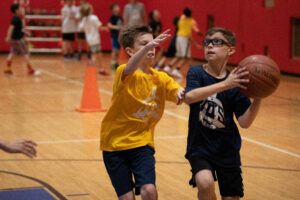 EIGHT WEEK SEASON
SUNDAYS APRIL 2 - JUNE 4 (OFF 4/9 & 5/28)
GRADES 3-4: 9:15 AM - 10:15 AM
GRADES 5-6: 10:30 AM - 11:30 AM OR 11:45 PM - 12:45 PM
GRADES 7-8: 1:30 PM - 2:30 PM OR 2:45 PM - 3:45 PM
EMILY DICKINSON SCHOOL GYMNASIUM - 95th Street and West End Avenue
OR
PS 163 ALFRED E. SMITH SCHOOL - 163 West 97th Street
COST: $375 includes Team Jersey
DETAILS
NYC's Best Spring Basketball League!

Full court game play each week with full warmups

One week pre-season drills, skills and scrimmages to ensure balanced teams
Each team gets a dedicated team coach from our head KOS basketball staff
Professional referees and scorekeeping, league stats and leaderboard
4 v. 4 or 5 v. 5 depending on enrollment with 6-8 players max per team allowing for tons of playing time
Open to all players and skill levels!

Full league playoffs, team championship and individual player awards

Players receive team jersey
A great way to improve your skills and stay sharp!
Bring your friends!  Players can mutually request to be with up to 2 friends on a team and we will try and honor that request.  League parity remains the main focus.